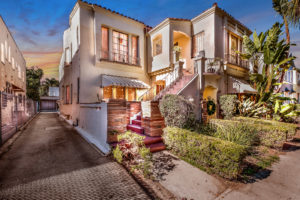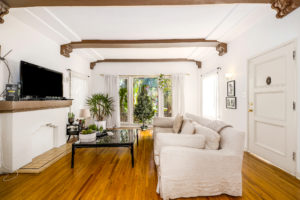 429 N. Genesee Ave Fairfax Village Spanish Style Triplex Sold for $1,900,000
Welcome to this classic Spanish style 2 story mid-century triplex, situated in the popular Fairfax Village neighborhood of Los Angeles. The property is zoned RD1.5 and located in a Tier 2 Transit Oriented Community. There is a 4-car detached garage in back, along with 3 uncovered parking spots. A laundry room with a washer/dryer adjoins the garage.The units are very large, with hardwood floors, high beamed ceilings, and classic period details for homes of this vintage; two have formal dining rooms. The 3-bedroom-plus-den/2-bath unit downstairs historically was–and would make–an excellent owner-occupied residence. (A basement is accessible from this bottom unit.) The top floor consists of two light, bright, and spacious 2-bedroom/1-bath units, both with tile bathrooms and rear balconies. The Fairfax Village neighborhood is very popular with tenants. The Grove, Farmers Market, Melrose Avenue, Fairfax High School, and many popular bars, restaurants, and coffee shops are all close by.
Go to  https://www.429northgenesee.com/ to see all of the photos and information. Sold for $1,900,000.
Sellers get my free report: How to sell your building and defer capital gains taxes for decades! https://www.deferyourcapgainstaxes.com/