I had the distinct privilege of interviewing famed landlord attorney Dennis Block. Dennis is my go to attorney for any of my tenant problems and I refer him to all of my landlord friends and clients.
The Dennis Block law firm started in 1976 and is the leading eviction law firm in tenant eviction in the State of California. His firm has over 200,000 tenant evictions in California. Mr. Block is an authority in the field of Landlord/Tenant law and rent control issues. He conducts numerous seminars for both landlords and fellow attorneys. He is also past President of the Apartment Association.
If you want to know all of your options while running your apartment building during covid, do not miss this valuable interview!!
Enjoy the interview! https://youtu.be/MemrokFMgqE
Do you have some questions about your property? Please contact me at [email protected] or by cell/text at 310-308-3174. Or you can book a phone or an in-person meeting with me at https://calendly.com/derrick-ruiz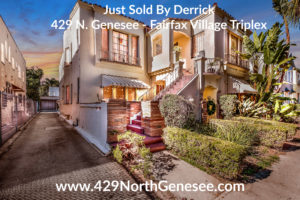 sold by derrick Fairfax Village Triplex click pic for more info